MICROSTEPPING STEP MOTOR DRIVER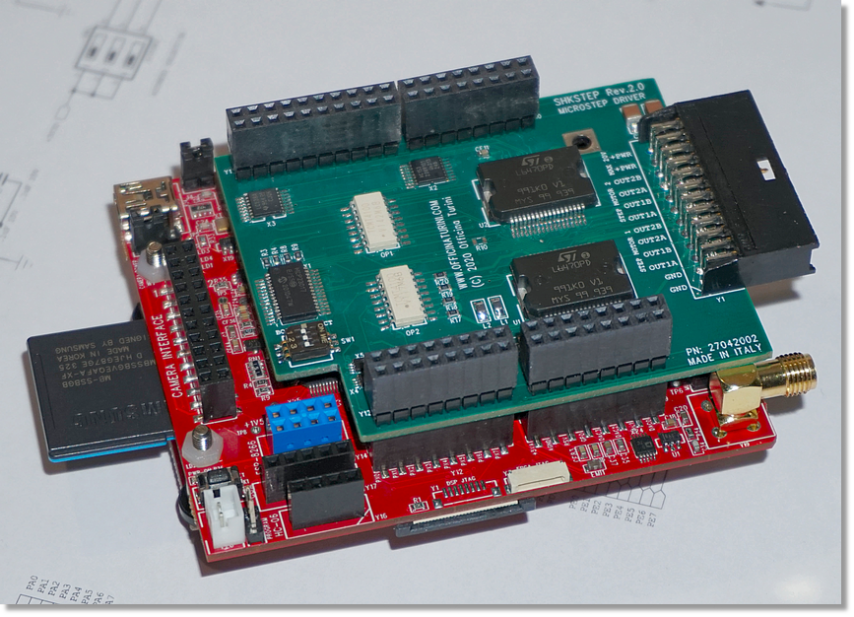 Questa interfaccia permette di gestire due motori passo-passo con la tecnica del micro-passo.
Sono disponibili due canali con una corrente massima di fase di 3A rms e con un alimentazione massima di 20VDC.
Se ne possono impilare diverse, infatti ciascuna scheda dispone di un selettore di identitá.
É possibile anche utilizzare due ingressi encoder per avere una retro azione del posizionamento.
Infine sono anche disponibili anche quattro ingressi da utilizzare per fine corsa etc.
Gli ingressi encoder ed i quattro ingressi sono opto isolati.

This interface allows you to manage two stepper motors with the micro-step technique.
Two channels are available with a maximum phase current of 3A rms and with a maximum power supply of 20VDC.
You can stack several, in fact each card has an identity selector.
It is also possible to use two encoder inputs to have a positioning feedback action.
Finally, there are also four inputs to be used for limit switches etc.
The encoder inputs and the four inputs are opto isolated.
DRIVER SPECIFICATION
Operating voltage: 8 - 20 V




7.0 A out peak current (3.0 A r.m.s.)




Low RDS(on) Power MOSFETs




Programmable speed profile and positioning




Programmable power MOS slew rate




Up to 1/128 microstepping




Sensorless stall detection




Low quiescent and standby currents




Programmable non-dissipative overcurrent protection on high and low-side




Two-levels of overtemperature protection