This work is licensed under Creative Commons Attribution-ShareAlike 3.0 License.

DCDC-1 è un alimentatore DC-DC step-up/step-down.
Funziona con una batteria LiION a cella singola e fornisce +5V 1A e +3.3V 250mA.
La batteria collegata può essere caricata da una connessione USB tramite connettore Mini B o può essere caricata anche da un pannello solare.
È anche possibile usare il connettore USB per fornire l'alimentazione a qualsiasi tipo di strumento che utilizzi questo connettore.
La corrente di carica della batteria è fissata a 200 mA.

DCDC-1 is a step-up/step-down DC-DC power supply.
It function with a single cell LiION battery and supply +5V 1A and +3.3V 250 mA.
Connected battery can be charged by and USB connection via a Mini USB B connector or can be charged also from a solar panel.
It is also possible to supply the power to the USB connector to supply any kind of instrument that can use this connector.
Charge current for the battery is fixed at 200mA.
Frequency Switching: 600kHz

Operating Temperature: 0°C ~ 70°C

Converter Efficiency: > 85%

Small size 31x27 mm (HxV)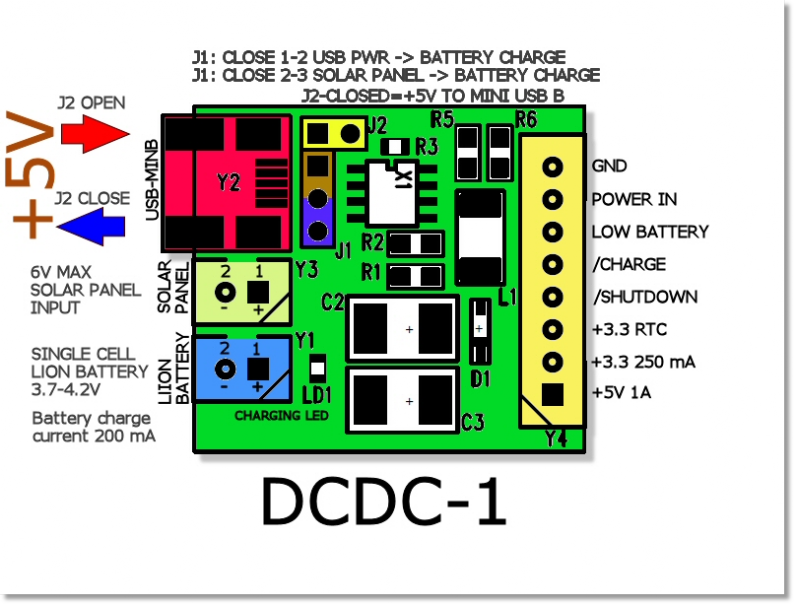 3

+3.3V RTC. Power supply for Real Time Clock direct step down from battery.


4

/SHUTDOWN: Ground this pin to turn off DCDC-1. To enable left open. SHDN does not need to be at VIN to enable the device.


5

/CHARGE: Charge Status Output. Active low.


6

Low-Battery Detector Output. Open collector, can sink 50μA.


7

POWER IN: Input voltage.

DOCUMENTS