Smart 20 pin DIP I/O module
Latest update 3 November 2022
This work is licensed under Creative Commons Attribution-ShareAlike 3.0 License.

OT-1000 is a small (15.2x25.4 mm) module which powered at 3.3V offers the possibility of
implement complex functions in a small space.
It has 18 port bits, configurable as input or output.
Inside there are also two time bases at 4 and 50MHz, 8 LEDs to use as
status or monitor of the implemented function and a 3-bit address selector.
The module is also sold without any function loaded in the FLASH, but they are also available
many functions ready to use
, these can be loaded by specifying the specific code or loaded by the user with his own programmer.
Its main purpose is to reduce the overload of the main micro controller or to allow
to this functions not easily implemented with similar characteristics.

OT-1000 é un piccolo (15.2x25.4 mm) modulo che alimentato a 3.3V offre la possibilitá di
implementare funzioni complesse in poco spazio.
Dispone di 18 bit di porte, configurabili come ingresso od uscita.
Al suo interno sono anche disponibili due basi dei tempi a 4 e 50MHz, 8 LED da usare come
status o monitor della funzione implementata ed un selettore di indirizzo a 3 bit.
Il modulo é venduto anche senza nessuna funzione caricata nella FLASH, ma sono anche disponibili
molte funzioni giá pronte all'uso, queste possono essere caricate specificando lo specifico codice oppure caricate dall'utente con un proprio programmatore.
Il suo scopo principale é ridurre il sovraccarico del micro controllore principale o di permettere
a questo funzioni non facilmente implementabili con analoghe caratteristiche.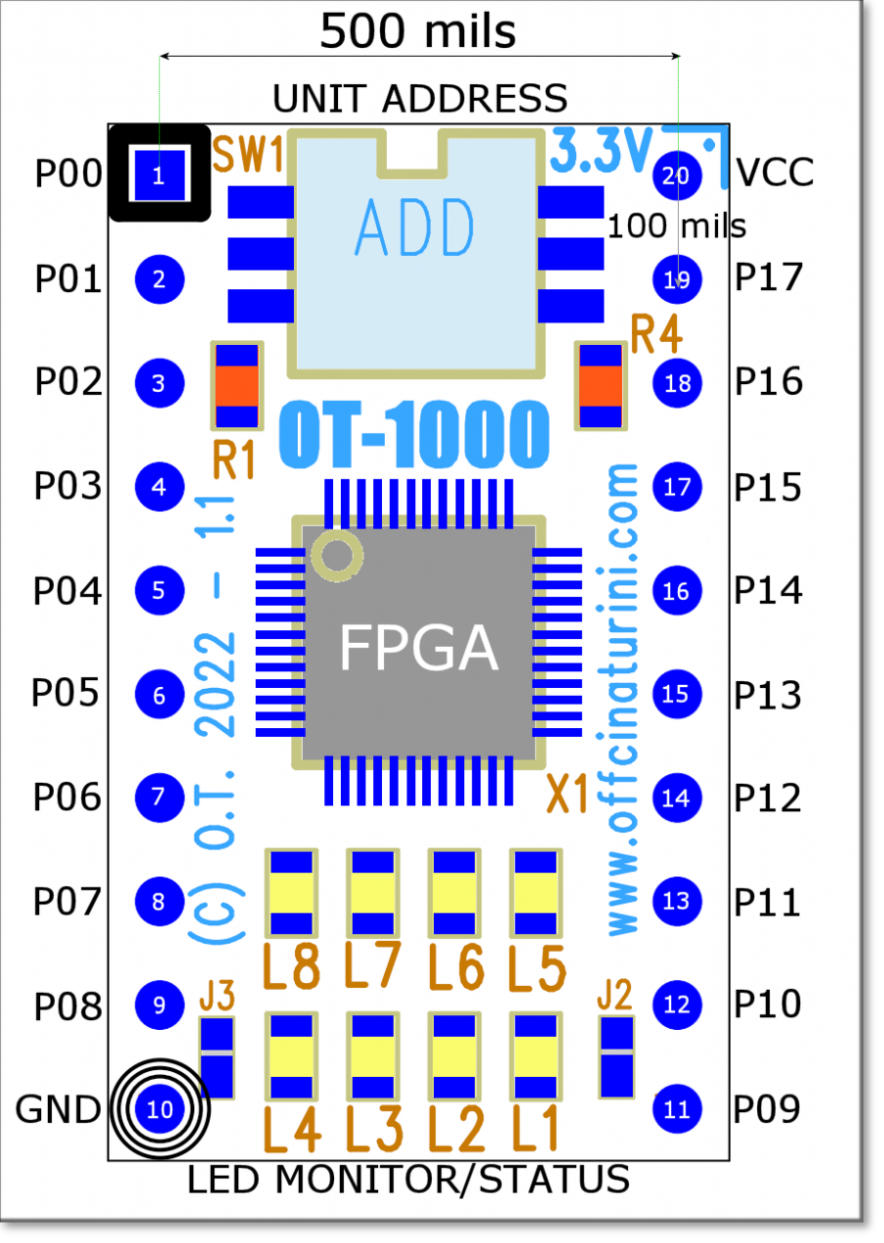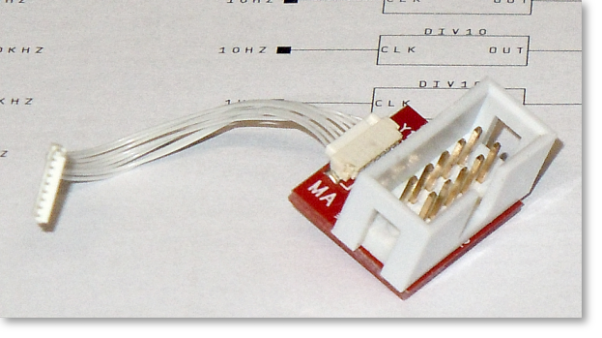 DOCUMENTS

READY TO USE SIMPLE PROJECTS WITH SOURCES
PROPRIETARY BINARIES - SEE DATA SHEET FOR MORE INFORMATIONS
OT-1000-EC Four channels encoder interface, 16bit encoder registers with clear. SPI Interface.

OT-1000-SR

Four channels SONAR interface with simultaneous read.

SPI Interface.

OT-1000-PU

Pulse generator from 20ns to 85s.

SPI Interface.

OT-1000-CN

High resolution frequency/period/counter.

SPI Interface.