Attenzione questo progetto non é piú attivo! Questa pagina viene mantenuta come riferimento di informazione per i numerosi utilizzatori.
Per assistenza e ricambi non esitate a contattarci abbiamo ancora diverse unitá e parti.
DESCRIZIONE
GLIDE è una scheda creata appositamente per lo sviluppo di strumenti alimentati a batteria, completa di display touchscreen, connessione SD e USB.
GLIDE funziona con batterie LiION che possono essere facilmente ricaricate tramite una connessione USB.
Il display touchscreen TFT QVGA (320x240) consente la scrittura di applicazioni con un'elevata capacità di interazione.
GLIDE ha uno zoccolo per la Secure Digital grazie al quale potremo disporre di una grande memoria di massa (FAT32).
Il software gratuito (GPACK) consente la scrittura di applicazioni con un'interfaccia grafica efficiente senza la necessità di utilizzare sistemi operativi pesanti, ma con la possibilità di applicare completamente le risorse del processore ARM.
L'interfaccia USB2 consente una facile connessione al personal computer con quasi tutti i sistemi operativi: si basa su un chip FTDI (FT2232) che offre un PC seriale (COM) e un canale dati di trasferimento veloce.
La connesione USB consente inoltre di aggiornare il firmware o la memoria FLASH esterna utilizzata dalla GUI.
La scheda è completata da un bus ARM bufferato a 16 bit, una memoria EEPROM da 128 Kbyte e una NAND da 256 Mbyte.

Attention this project is no longer active! This page is maintained as an information reference for the numerous users.
For assistance and spare parts please contact us we still have different units and parts.
DESCRIPTION
GLIDE is a board that has been created specifically for the development of battery powered instruments, complete with touchscreen display, SD and USB connection.
As a matter of fact, GLIDE works with LiION batteries that can be easily recharged through an USB connection.
The TFT QVGA (320x240) touchscreen display allows the writing of applications with a high interaction capacity.
GLIDE is equipped with Secure Digital thanks to which the board has large mass memory (FAT32) at its disposal.
The free of charge software (GPACK) allows the writing of applications with an efficient graphic interface without the need to use heavy operating systems, but with the possibility to fully apply the ARM processor resources.
The USB2 interface allows easy connection to personal computer with almost all operating systems: it is based on a FTDI (FT2232) chip that offers a serial (COM) and a fast transfer data channel to the PC.
USB also allows to update the firmware or the external FLASH used by GUI.
The board is completed with a 16 bit buffered ARM bus, a 128 Kbyte EEPROM memory and a 256 Mbyte NAND.
FEATURES
LPC2468 PQFP208 72MHz


256 MB NAND FLASH, 4 MB NOR FLASH + 512 KB internal




32 MB SDRAM + 96 KB internal




16-bit data bus to SDRAM and to expansion bus




SD/MMC card connector full size




12.000 MHz crystal for CPU




32.768 kHz crystal for RTC




USB Power, LiION, +5V




Standard JTAG connector




7 User keys




Touch-screen controller




QVGA (16bit 320x240) TFT display, located on expansion bus for the maximum speed




Speaker




Step-Up DC-DC converter 1A +5V




LiION charger




Small size 90x90mm (HxV)




Free ARMD IDE environment for C language




Free GPACK utility for GUI interface



Free libraries for SD,TFT,ARM,etc.

APPLICATIONS
Portable instruments


Embedded cameras




Robotics




Remote instruments



Secure Digital Benchmark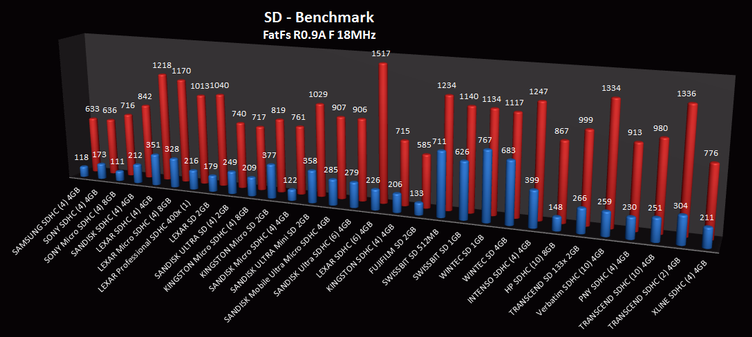 GLIDE Touch in action